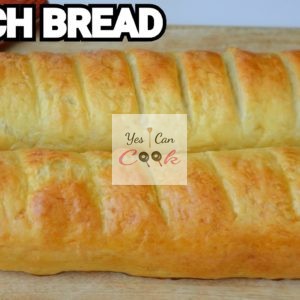 French Bread recipe
Ingredients
2

cups

Refined Flour (Maida)

2

tsp

Yeast (Khameer)

1

tbsp

Castor Sugar (Bareek Cheeni)

1

tsp

Salt

200

ml

Warm milk and warm water

2

tbsp

Oil
Instructions
Take a mixing bowl. Add yeast, castor sugar and salt with refined flour (Maida) and mix well.

Add the milk slowly. Then add some oil and knead well for 5-7 minutes for dough formation.

Grease the bowl with oil and keep the dough in it, cover the bowl and rest it for 1 – 2 hours.

Knead again and make up the bread rolls. Rest for 30 – 40 minutes.

Apply the bread rolls with beaten egg and milk mixture. Make some steep slight cuts on the top of the bread rolls for shape and baking deep inside.

Bake in a preheated gas or electric oven at 180C for 25 minutes.

Let the bread rolls cool completely and serve as you like.
If you like my recipes then please visit and subscribe my YouTube channel for daily recipes. The written contents of my recipe videos released on my channel are also being frequently published on my website. Therefore, you can visit my site any time to look for written content of your favorite recipes.
Feel free to leave your comments and suggestions at the end of this post.