Crispy Chicken Mayo Bread Balls are delicious snacks made from bread, shredded pieces of chicken, lots of mayonnaise and vegetable. Recipe is simple and easy to make with no cooking experience required.
You can also check its vegetable filling variant if you are feeling like a vegetarian or want to taste it differently. Vegetable replaces the chicken yet the bread balls retain their crispiness and promise new taste. Click Vegetable Bread Balls for ingredients and written instructions.
But if you have decided upon chicken in your menu today, then all you need is to follow the steps mentioned below.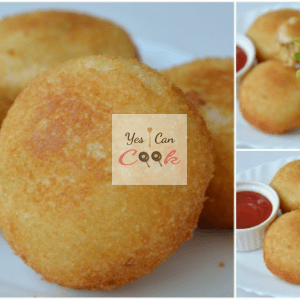 Chicken Mayo Balls
Ingredients
200

grams

Chicken- Boiled and Shredded

(Ubly aor resha ki hui)

1

piece

Capsicum

(Shimla mirch)

½

cup

Mayonnaise

or as required

1

tsp

Black pepper crushed

or to your taste

½

tsp

Red chilies (Laal mirchain)

to your taste

½

tsp

salt

to your taste

5 – 6

slices

Fresh Bread

Breadcrumbs

Breadcrumbs are residue of sliced dry bread and is used to make crisp and crunchy covering for fried foods.

Oil

as required
Instructions
In a large mixing bowl add boiled and nicely shredded chicken. Add in Capsicum slices, lots of mayonnaise, crushed black pepper, crushed red chilies, and salt as required in the recipe or as per your taste.

Grab some fresh bread slices and cut off their hardened and browned crust around all sides. Dip the cropped slice in water gently. Make sure you don't leave the slice dipped in water for too long. Take it out immediately when it becomes thoroughly wet. Repeat the process unless you get enough pastries for the filling mixture you have already made for the recipe.

Using your palm of your hand fill up surface of the bead pastry with filling mixture and make shape like a round ball. Repeat the process for rest of the pastries.

Coat the bread balls with breadcrumbs for crispy and crunchy covering. Use your hands in the process to maintain the round shape while applying breadcrumbs thoroughly on all sides.

Before cooking preheat the oil. Fry on medium flame and flip over the sides until balls get golden and crispy.

Take out on the kitchen towel to shed extra oil before serving. Within no time you can serve the crispy and crunchy mayo balls with tomato or any other sauce or chatni you may like the most.
Notes
Bread balls can be stored up for 1 month in freezer.
If you like my recipes then please visit and subscribe my YouTube channel for daily recipes.
The written contents of my recipe videos released on my channel are also being frequently published on my website. So, you can visit my site any time to look for written content of your favorite recipes.
Feel free to leave your comments and suggestions at the end of this post.