Pizza is known to have originated from Italy but it is a popular fast food choice of people of all-ages around the world. Pizza are typically made up of round flatbread called crust with toppings offering wide variety of items. Here is a Tandoori Boti Pizza recipe for you to try at home today.
Whatever flavor you may wish to taste, mozzarella cheese is one of the key ingredient in every pizza recipe.
Introduction of pizza in the Asian subcontinent has seen remarkable innovations in the pizza making it a favorite savory dish as we have tasted its amazing integration with desi flavors like 'Chiken Tikka', 'Seekh Kabab', 'Chicken Afghani Tikka', 'Tandoori Hot' and so many other glorious varieties out there.
Talking about the popularity of pizza in Pakistan for instance, someone has rightly said.
Italians may have invented the pizza but Pakistanis have perfected it.
Tandoori Boti Pizza recipe is a way of achieving that perfection. So, if you want to east pizza with desi flavor. Then Tandoori Boti is a right choice for the day.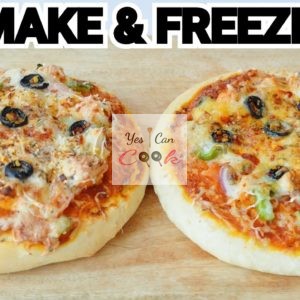 Small Tandoori Boti Pizza
Ingredients
Pizza Topping- For making of Tandoori Boti
350

grams

Chicken boneless

1

tbsp

Garlic paste

1

tsp

Red chilies (Laal mirch kooty hue)

½

tsp

Paprika for color

(optional)

½

tsp

Tandori Masala

Salt

to your taste

1

tbsp

Vinegar (Sirka)

¼

cup

Yogurt

1 to 2

tbsp

Oil
Pizza Topping- Other ingredients
1

Onion chopped (Small sized)

Capsicum

Tomato

Cheddar Cheese

as required

Mozzarella Cheese

as required

Black Olives

as required

Chili flakes

Oregano

as required
PIZZA DOUGH
Warm water

as required

2

tsp

Instant yeast

4

cups

All purpose flour (maida)

1

tsp

Sugar

1

tsp

Salt

2

tbsp

Oil
Instructions
Making of Chicken Tandori Boti for the Pizza Topping
In a bowl make a marinade by adding chicken boneless pieces, garlic, crushed red chilies, tandoori masala, salt, vinegar and yogurt. You can also add ½ tsp of paprika for coloring. Mix them well and marinate for at least 30 minutes.

Cook the marinade on the high flame for 2 minutes. Then cover the pan and cook it on low flame until chicken becomes tender. Uncover the pan and now cook it on high flame until liquid content is dried. Turn off the flame and keep aside.
Dough Formation
Take ½ cup water in a bowl and add ½ tsp yeast into it and stir them together. Leave the mixture aside for 10 minutes or the yeast get foamy and dissolved.

Add 4 cups of all purpose flour, 1 tsp sugar, 1 tsp salt and 2 tbsp oil in a separate larger bowl and stir them with your hand. Then gradually add in the yeast mixture and warm water as required. Knead with your hands until the dough gets smooth and elastic.

Shape the dough into a ball, apply some oil and cover the mixing bowl with plastic wrap. Allow it to rise until double in size by resting for 1 to 2 hours.

After enough rest punch the dough down. Then place it on flat surface and divide it into six equal pieces. Shape all the pieces into round small pizza breads.
Baking of Pizza
Grease pizza pan and dust with some flour. Place the pizza bread on the pan and mark a border for the pizza topping around the bread with your finger. Use fork to rough the surface of the bread in between so that pizza topping make a nice bond with the bread.

Then spread some pizza sauce over the bread. Add in tandoori chicken pieces, chopped onion, capsicum and tomato pieces. Set cheddar and mozzarella cheese as required. Lastly, decorate the topping with black olives. Sprinkle some chili flakes and oregano.

Bake in preheated oven at 160°c for 20 – 25 minutes.
Video
If you like my recipes then please visit and subscribe my YouTube channel for daily recipes.
The written contents of my recipe videos released on my channel are also being frequently published on my website. So, you can visit my site any time to look for written content of your favorite recipes.
Feel free to leave your comments and suggestions at the end of this post.