Patties are one of favorite party snack. We often find them selling cafeterias, tuck shops and bakeries round the corner. Today we'll be sharing ingredients of vegetable patties which is very simple and easy to make not to mention dough making which may need you to apply some extra effort. In the end you get a very tasty 'Vegetable Patties' which you may have ever thought of making at home.
Once you have done with the hard part (dough making), it become fairly easy for you to prepare vegetable filling for your pastries.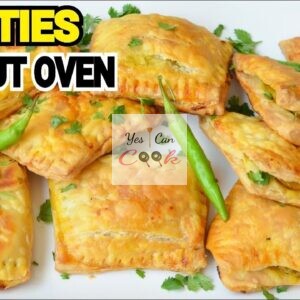 Vegetable Patties Recipe
Ingredients
Patties Filling
1

tbsp

Oil

½

tsp

Cumin Seeds (Sabut Zeera)

1

piece

Onion

small sized

1

piece

Green Chili

¼

cup

Peas

boiled

½

tsp

Red Chili powder (Lal mirch)

or to taste

1

tsp

Coriander Seeds Crushed (Dhania Koota Hua)

Turmeric (haldi) powder

little bit

5 – 6

leaves

Dried Mint Leaves

2

pieces

Potato

boiled and mashed

1

tbsp

Lemon Juice
Here are the puff Pastry Dough Making steps given. Recipe video link is also given at the end.
Puff Pastry Dough
Ingredients
3

cups

All purpose flour (maida)

½

tsp

Salt

3

tbsp

Butter

unsalted

Chilled water

for making dough as required
Butter block
300

grams

unsalted butter

(use cold butter for the recipe)

2

tbsp

all purpose flour

(maida)
Instructions
Take 3 cups of all purpose flour in a large mixing bowl. Add in ½ tsp of salt and 3 tbsp of unsalted butter and gently mix them together.

Add water and knead well for 5 to 6 minutes. Use water wisely in the process to bring the dough together into a soft, elastic, and cohesive ball. If the dough is tacky, or even a little sticky, don't worry. It will absorb moisture as you wrap it in plastic and rest in freezer for 20 minutes.

Meanwhile, add 300 grams of unsalted butter in an empty bowl. Add in 2 tbsp of all purpose flour and mash the butter and shape it into a round ball. Wrap it with plastic and keep it in freezer for 10 minutes.

Take out the dough from freezer and roll it out into into a rectangle shape. Place the butter block in its center and wrap up all the sides of the dough.

Again roll the dough out all over again into big rectangle. Then fold it down with your hands and place it in a lightly floured pan. Cover it with plastic and keep it in freezer for 15 minutes.

Repeat the above steps for two more times making total 4 such turns.

Homemade puff pastry dough is ready to be used and can be stored in freezer for up to 3 months.
If you like my recipes then please visit and subscribe my YouTube channel for daily recipes.
The written contents of my recipe videos released on my channel are also being frequently published on my website. Therefore, you can visit my site any time to look for written content of your favorite recipes.
Feel free to leave your comments and suggestions at the end of this post.