Here is the detail of Ingredients of Mac and Cheese Bread Rolls. Please visit my YouTube channel for video of the recipe. However, written instructions will also be updated soon.
If you like my recipes, please share it with others. Further, you can follow us on Facebook and Instagram.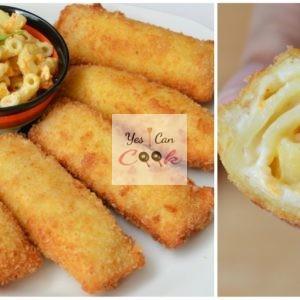 Mac and Cheese Bread Rolls
Ingredients
1

tbsp

Oil

2

tbsp

Butter

1

tsp

Fresh Garlic Cloves Finely chopped or crushed (Taza Lahsan Koota Hua)

2

tbsp

All purpose flour (maida)

1 ½

cup

Milk

Salt

to taste

½

Red Chilies Crushed

optional

½

tsp

Black Pepper

or to taste

½

tsp

Mixed Herbs

3

slices

Cheddar Cheese

Mozzarella Cheese

to taste

200

grams

Macaroni

boiled

1

cup

Chicken Tikka or Chicken Tandoori Shredded

Optional Ingredient

Fresh Bread

as required

Cream Cheese or Mayonnaise

to be applied on rolled bread slices

Egg

as required

Breadcrumbs

as required
If you like my recipes then please visit and subscribe my YouTube channel for daily recipes.
The written contents of my recipe videos released on my channel are also being frequently published on my website. So, you can visit my site any time to look for written content of your favorite recipes.
Feel free to leave your comments and suggestions at the end of this post.