Seekh Kabab Masala can be easily made at home. Add all the ingredients listed below in a grinder and you get instant masala for seekh kababs. Home made masala are better than most of the off the shelf market products. You don't need to worry about expiry dates or loss of quality due to higher humidity.
Try home made Seekh Kabab Masala Recipe and leave your comments and suggestions at the end of this post.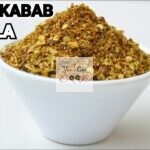 Print
Seekh Kabab Masala
Materials
20

grams

round red chilies

(gol laal mirchain)

1

tsp

all spice

(kabab chini)

2-3

long pepper

(pipli)

2

pieces

cinnamon sticks

5-6

green cardamom

(choty elaichi)

1

tbsp

cumin seeds

(zeera)

1

tbsp

coriander seeds

(dhania)

½

tsp

turmeric

(haldi)

¼

tsp

citric acid

(tatri)
Video
If you like my recipes then please visit and subscribe my YouTube channel for daily recipes.
The written contents of my recipe videos released on my channel are also being frequently published on my website. So, you can visit my site any time to look for written content of your favorite recipes.