Seekh kababs are popular barbecue recipe. You can easily make them at home in regular kitchen pan. Beef Seekh Kabab recipe shared in this post gives you typical barbecue touch with a little coal smoke and familiar kabab taste with homemade masala.
Kababs are Middle Eastern cuisine and are popular around the world with so many variants and tastes. Traditionally, beef is a preferred meat for making kababs but you may have already tried chicken, fish and vegetable.
From meat to vegetable, whatever variant you decide, Seekh Kabab masala plays an important role to spicing up your kabab recipe. There are so many off the shelf seekh kabab masala products in the market. However, if you like you can easily make Seekh Kabab Masala at home. Using homemade masala may even prove to be a more smart choice as your are not worried about expiry dates and loss of quality due to high humidity or some other good reasons.
I have already shared post with the title how to make seekh kabab masala at home. Give it a try and use it while making this Beef Seekh Kabab recipe.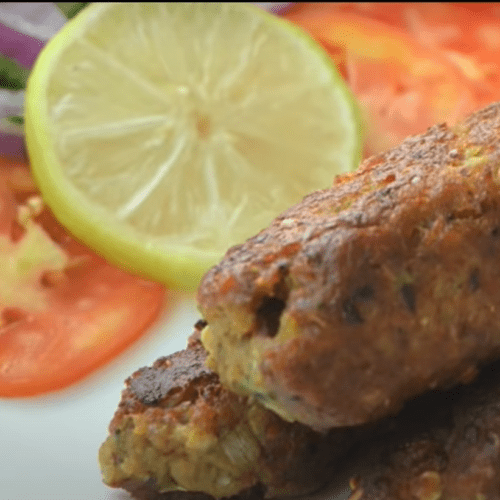 Beef Seekh Kabab
Ingredients
1

medium sized

onion

a

handful of

coriander leaves

a

handful of

mint leaves

2

green chilies

1½

tbsp

fresh ginger garlic

crushed into paste form

2-3

tbsp

gram flour

chanay ka powder ya bean

1

tsp

salt

2-3

tbsp

seek kabab masala

2-3

tbsp

oil

for frying the kababs in pan
Video
Notes
Beef Seekh kabab can be stored up for 2 weeks in freezer. To get a barbecue taste give coal smoke.
If you like my recipes then please visit and subscribe my YouTube channel for daily recipes. Don't forget to share this recipe.
We welcome your feedback to serve a better content. So feel free to leave your valuable suggestions and comments at the end of this post.