Here are the ingredients and written instructions of Pizza Pinwheels. Please submit your feedback in the comments section at the end of this post. You can also rank my recipes from a scale of 1 to 5. Your feedback and ranking will help me serve the content better on my blog.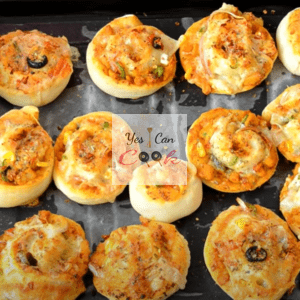 Pizza Pinwheels
Ingredients
1

cup

Chicken boneless

1

tsp

Garlic

1

tsp

Sriracha Sauce

or Hot Sauce

½

tsp

Tikka Masala

Salt

(little bit)

1

tsp

Lemon Juice

2-3

tbsp

Yogurt

oil

for cooking the marinated chicken
Pizza Dough
½

cup

warm water

2

tsp

instant yeast

4

cups

all purpose floor

(maida)

1

tsp

sugar

1

tsp

salt

2

tbsp

oil
Instructions
In a bowl make a marinade by adding chicken boneless pieces, garlic, sriracha sauce, tikka masala, salt, lemon juice and yogurt. Mix them well and marinate for at least 30 minutes.

Cook the marinade on the high flame for 2 minutes. Then cover the pan and cook it on low flame until chicken becomes tender. Uncover the pan and now cook it on high flame until liquid content is dried. Turn off the flame and keep aside.
Pizza Dough
Take ½ cup water in a bowl and add 2 tsp yeast into it and stir them together. Leave the mixture aside for 10 minutes or the yeast get foamy and dissolved.

Add 4 cups of all purpose flour, 1 tsp sugar, 1 tsp salt and 2 tbsp oil in a separate larger bowl and stir them with your hand. Then gradually add in the yeast mixture and warm water as required. Knead with your hands until the dough gets smooth and elastic.

Shape the dough into a ball, apply some oil and cover the mixing bowl with plastic wrap. Allow it to rise until double in size by resting for 1 to 2 hours.

After enough rest punch the dough down. Then place it on flat surface and shape it into a large rectangular pizza breads.
Pizza filling and baking
Apply pizza sauce over the flattened bread and arrange the cooked chicken on it. Garnish with some sliced onion, seedless tomato and capsicum, olives, sweet corn, cheddar cheese and mozzarella cheese as required.

Roll the pizza bread firmly folding the filling contents inside.

Using your hands carefully cut the roll down into round pinwheels pizza.

Grease the baking tray and place butter paper on it. Arrange the pinwheel pizza on the pan for baking.

Sprinkle dried oregano leaves and chili flakes (kooty hoey laal mirch).

Bake in preheated oven at 180°c for 15 to 20 minutes.
Video
If you like my recipes then please visit and subscribe my YouTube channel for daily recipes.
The written contents of my recipe videos released on my channel are also being frequently published on my website. So, you can visit my site any time to look for written content of your favorite recipes.
Feel free to leave your comments and suggestions at the end of this post.