Peri-Peri Bread Fingers or you may call them Chicken Cheese Fingers are super tasty and crispy snacks coated with home-made breadcrumbs.
Snacks made with fresh bread are very easy to make. You can have variety in taste by slight changes in the ingredients for the filling. Once you master the use of bread and crumbs, you get enormous options to experiment with the taste.
You have the option to use chicken as the main content for the recipe or you may try various vegetables if you feel like a veg.
This recipe is another variant of Bread Fingers with slight changes in the ingredients to have some different taste. The other recipe included capsicum to offer some bitter-sweet flavor, mayonnaise and some extra treat of mozzarella and cheddar cheese. You may visit the Bread Fingers recipe page by clicking the word link.
The Peri-Peri Bread Fingers recipe on the other hand has only chicken as its main ingredient and flavored with some easily available market sauces. You can also use some home-made sauces for the recipe.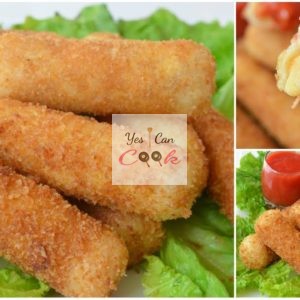 Peri-peri Bread Fingers Recipe
Ingredients
Marination of chicken
1

chicken fillet

1

tbsp

vinegar

1

tbsp

soy sauce

1

tbsp

Peri-Peri sauce

1

tsp

garlic

½

tsp

paprika powder

salt

to taste
Other ingredients
2

tbsp

oil

½

cup

water

½

cup

tomato ketchup

fresh bread slices

as required

mozzarella cheese

(optional)

2

eggs

breadcrumbs

home-made

oil

for deep frying
If you like my recipes then please visit and subscribe my YouTube channel for daily recipes. Don't forget to share this recipe.
Feel free to leave your comments and suggestions at the end of this post.