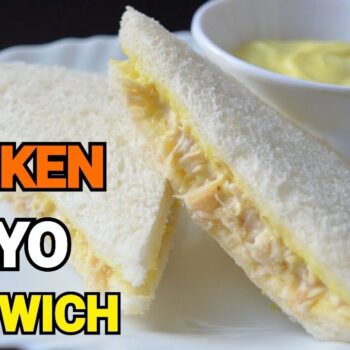 Chicken Mayo Sandwhich
Ingredients
For shredding the chicken
300

grams

boneless chicken

salt

½

tsp

black pepper

½

tsp

garlic

finely chopped

water

as required
Other ingredients
home-made egg-less mayonnaise

as required.

fresh bread slices

as required

1

tsp

mustard paste

(spread on the one of the two slices of the sandwich)

butter

(spread on other of the two slices of the sandwich)
Instructions
Shredding the chicken
Place the boneless chicken in a large pot and then season it lightly with salt and black pepper. Add ½ tsp of garlic paste.

Pour water into the pot so that chicken is covered.

Place the pot on the stove and cook the chicken on medium to high flame until water starts boiling. Water may take 10 to 15 minutes to boil depending upon the stove that you are using.

Reduce the heat and let simmer until chicken is done and is no longer pink in the center. This may take about 8 to 16 minutes, depending upon the weight and size of the boneless chicken you are poaching. 300 grams of chicken breast will need to simmer for about 12 to 14 minutes. On the other hand, chicken cut into smaller cubes may take less time to simmer.

Remove the chicken from water and let rest until cool enough. Then shred the chicken for instant use in your recipe or if you may like store in the freezer for later use as desired.
Making of Sandwich
Place the shredded chicken in a mixing bowl. Then add as much as home-made mayonnaise as required and mix it well with the shredded chicken. This mayo chicken mixture is going to serve as filling of your sandwich.

In a separate bowl mix 3-4 tbsp of mayonnaise with mustard paste to make a mayo mustard paste to be used as sandwich spread for one of the two bread slices of the sandwich.

Next take bread slices and remove the crust around the corners.

Then spread butter over one slice and mayo mustard paste on the other slice. Arrange the mayo chicken filling on one slice and cover it with the other.

Make a diagonal cut in between and serve with your favorite sauce.
If you like my recipes then please visit and subscribe my YouTube channel for daily recipes. Don't forget to share this recipe.
Feel free to leave your comments and suggestions at the end of this post.