Coconut Brittle Sweet locally called as Otty (اوتی) is a simple and tasty sweet. You can easily make it at home from just only 3 ingredients.
Women in rural areas of Sindh have no or limited access to novelty food items and processed food like many of us living in big cities. So they always have to come up with some homemade recipes that are simple but amazingly tasty. Sindhi Otty Recipe is one such example that will inspire you to add it in your Winter menu.
Though traditionally this recipe is made from 3 ingredients i.e. sugar, poppy seeds and coconut slices, you may experiment other dry fruits with it.
Do try it at least one time and share your experience with us. Follow the instructions in the video and enjoy this Winter exclusive Coconut Brittle Sweet. Don't forget to share it with your loved ones.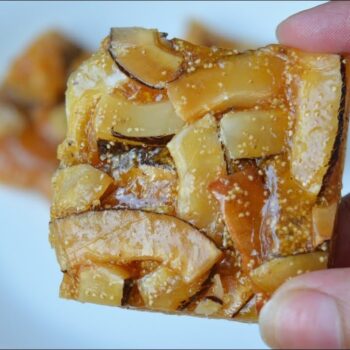 Coconut Brittle Sweet
Ingredients
1

cup

sugar

1

tbsp

Poppy seeds

½

coconut
Video
If you like my recipes then please visit and subscribe my YouTube channel for daily recipes. Don't forget to share this recipe.
We welcome your feedback to serve a better content. So feel free to leave your valuable suggestions and comments at the end of this post.