Chicken Cheese Sliders are perfect choice for appetizer. Sliders are small sandwiches with only a handful of ingredients and require little preparation time. You can use home-made buns or look for ready made bakery pav buns. This dish comes together quickly and is a true family pleasing comfort food!
You may also like try my Home-Made Pav Buns recipe. I have already uploaded video on my YouTube channel. If you have some baking experience or wish to learn it, then you should at least try to making buns at your home.
Chicken Cheese Sliders Recipe
When you are done with choice of baking buns home or get ready made buns, you can prepare the filling contents for the recipe. Start by frying the minced chicken in a frying pan. When color of the chicken changes, add other ingredients as per the recipe and continue frying to 2 more minutes. Add water and cook on low flame for 5 – 7 minutes. The whole process for making filling for the sliders may take 15 to 20 minutes.
Meanwhile, cut the buns in two halves and arrange the bottom halves over a rectangular tray and spread the filling contents. Then add sliced onion, capsicum and a layer of cheese slices. Cover the fillings with top slice of the bun.
Add rich and nutty flavor to the buns with sesame seeds. Apply melted butter and sprinkle the seeds on the buns. Bake the buns so that sesame seeds stick to the top of the bread.
Chicken sliders is very delicious and easy recipe and both children and adults would love it. If you liked my recipe, feel free to drop your comments and stay tuned for more yummy recipes.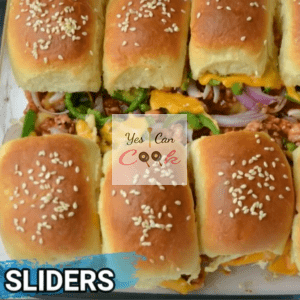 Chicken Sliders
Ingredients
3

tbsp

Oil

1

cup

Minced Chicken

1

tsp

Garlic

Salt

to taste

1

tsp

Black Pepper

1

tsp

Paprika powder for color

1

tsp

Oyster Sauce

1

tsp

Hot Sauce

1

tbsp

Soy Sauce

1

tsp

Vinegar

1

tsp

Worcestershire sauce

½

cup

Water

Bread Buns
Other contents needed for filling of Chicken Sliders
Mozzarella Cheese

to taste

Garlic Cheese Sauce

Onion

Capsicum

Cheese Slices

Butter

melted

Sesame Seeds

(sufaid till)
Instructions
In a frying pan add oil and fry minced chicken till its color is changed.

Add some garlic and keep frying for further 2 minutes.

Then add salt, black pepper, paprika powder, oyster sauce, hot sauce, soy sauce, vinegar and optionally Worcestershire sauce all as per aforementioned quantity. Cook on medium to high flame for 2 minutes.

Add some water and cook on low flame for 5 – 7 minutes. When done turn off the flame and keep aside.

Cut the buns in two halves and spread the bottom halves over a rectangular tray. Start filling over the surface with mozzarella cheese and chicken you have just baked and kept aside. Squeeze out and spread over chili garlic sauce as per your requirement. Add a layer of sliced onion and capsicum and above all cheese slices. Cover the fillings with top slice of the bun.

Apply melted butter on top of all the buns and sprinkle them with sesame seeds.

Bake them at 180°C for 12 to 15 minutes and your Chicken Sliders are ready to be served.
Video
If you like my recipes then please visit and subscribe my YouTube channel for daily recipes.
The written contents of my recipe videos released on my channel are also being frequently published on my website. So, you can visit my site any time to look for written content of your favorite recipes.
Feel free to leave your comments and suggestions at the end of this post.