Banana Custard Delight is gonna be one of your fingertip recipe as you can learn as you try it with no effort at all. The recipe does not even require kitchen skills. Anyone with little or no cooking experience can make this recipe work for him.
Custard and jelly desserts are very common items served as dessert along with regular meal. However, serving them differently may help serve you many ways.
All you need is to grab some bananas, sugar coated or any sweet biscuits of your choice, milk, jelly and custard.
Banana and biscuit crumbs make up the base of the custard. As biscuit crumbs is something not available in market. You can easily make it at home by grinding with a mixer or kitchen hammer or tenderizer.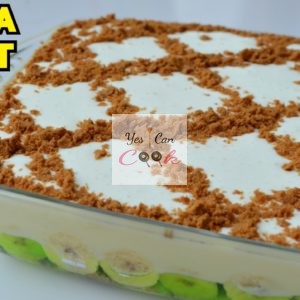 Banana Custard Delight
Banana Custard delight is an easy dessert recipe.
Ingredients
Sugar Biscuits 2 x half rolls

Banana

as required
Jelly
2

cups

Fresh Water

1

pack

Banana Jelly Powder
Custard
1

liter

Milk

½

cup

Sugar

3

tbsp

Custard Powder

Whipped cream

as required
Instructions
Prepare base for the custard from biscuit crumb and finely cut banana slices. Biscuit crumbs can easily be made at home by grinding or crushing 15 to 20 sweets biscuits of your choice between two sheets of waxing paper or plastic sheet. Keep it aside.

Then boil two cups of water and add 1 pack of jelly powder in it. Cook until jelly is dissolved in water.

Pour the jelly over the 'banana biscuit crumbs base' and keep the bowl in a refrigerator for 30 minutes.

Boil milk and add sugar. Cook and stir until sugar is nicely dissolved during the process.

Meanwhile, mix ½ cup of milk with 3 tbsp of custard powder in a separate bowl.

Slowly add the custard mixture with the milk you have already left boiling. Keep stirring until all the mixture is poured into the pot and cook it for further 2 to 3 minutes. Then turn off the flame and let it cool down.

Take the jelly bowl out the refrigerator and pour the custard into it to make a perfect layer covering all the base.

Add another layer of whipped cream and garnish it with the biscuit crumbs.

Banana Custard Delight is ready to be served.
Video
If you like my recipes then please visit and subscribe my YouTube channel for daily recipes.
The written contents of my recipe videos released on my channel are also being frequently published on my website. So, you can visit my site any time to look for written content of your favorite recipes.
Feel free to leave your comments and suggestions at the end of this post.