All of you might have tried samosa filled with potato, shredded chicken pieces or chopped meat giving you variety of taste. Few of you may have ever tried a crispy and crumby bread cone samosa.
Samosa is a one the popular a popular snack of the Indian subcontinent and many other parts of the world. Typically you have seen it baked as a pastry made with all-purpose flour and savoury filling options mentioned above.
But if you want to reinvent samosa, then make Bread Cone Samosa this evening. Serve it with tomato ketchup, chatni or sauce of your choice. It will be a perfect snack choice for the day.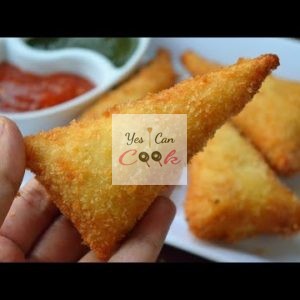 Bread Cone Samosa
Ingredients
1

cup

Chicken Boneless

1

tsp

Garlic Crushed

Red Chilies Crushed

to taste

Salt

to taste

Black Pepper

to taste

2

pinches

Orange Food Color

½

cup

Yogurt (Dahi)

Mozzerella cheese

as required

Egg

for dipping cones in it.

breadcrumbing

as required
Instructions
Take a 1 cup of boneless chicken in a mixing bowl. Add garlic and red chilies both nicely crushed.

Sprinkle some salt and black peeper as per your taste. Then add in 2 pinches of Orange Food Color followed by ½ cup of yogurt. Use spoon or a mixer to stir the contents thoroughly so that all the contents are mixed well.

Let the mixture marinate for 30 – 40 minutes.

Heat up the oil in a frying pan for cooking the marinade you have already made and kept aside. Cook on low flame till chicken is done and furn off the flame. Blend the cooked chicken with lots of mayonnaise as per your requirement.

Then take some fresh bread slices and cut off their hardened brown crust around all sides with kitchen knife. Flatten the bread slices with a rolling pin to make covering (patti) for samosa.

Fold the flattened bread covering (patti) to form shape of a cone. Use water to glue the cone by gently pressing the cone sides with your fingers.

Fill the cone with cooked chicken and mozzarella cheese and close its opening. Repeat the process and make 14 to 16 cones.

Dip in the beaten egg and coat with breadcrumbs. Use your hands in the process to maintain the shape while applying breadcrumbs thoroughly on all sides.

Before cooking preheat the oil. Fry on medium flame and flip over the sides until samosas get golden and crispy.

Take out on the kitchen towel to shed extra oil before serving. Within no time you can serve the crispy and crunchy Bread Cone Samosas with tomato or any other sauce or chatni you may like the most.
If you like my recipes then please visit and subscribe my YouTube channel for daily recipes.
Feel free to leave your comments and suggestions at the end of this post.