If you are looking for a delicious and easy way to prepare chicken, you might want to try chicken shashlik. Chicken shashlik is a skewered dish that is believed to have originated in Central Asia and is popular in many countries. There are two ways to prepare chicken shashlik: with gravy or on skewers. The gravy method involves cooking the boneless chicken pieces and then adding a spicy sauce. The skewer method involves threading the chicken and some vegetables, such as onion, capsicum, tomato, etc., on metal or wooden sticks and then grilling them over a fire, in an oven or on a stovetop. In this recipe, we will share with you how to make chicken shashlik with saucy gravy.
This is a popular and alternative way to prepare this dish as you can cook the chicken and vegetables in separate pans, then mix them with sweet and spicy gravy bursting with flavor. This method saves time and avoids burning the skewers. You can also customize the flavor and texture of each component according to your preference.
Chicken shashlik gravy is a delicious dish that consists of chicken boneless cubes and vegetables cooked separately and then combined and added to a rich and spicy gravy.
The result is tender and juicy chicken with a charred and smoky flavor, complemented by the crunchy and colorful veggies.
Many people love this recipe and it has gone viral on my YouTube channel with over 2 million views. You can watch the video at the bottom of this page. I got a lot of feedback from my fans asking me to share the written recipe. So here it is, step by step, with all the tips and tricks to make it perfect.
Chicken shashlik is a versatile dish that can be served as an appetizer, a main course or a snack. You can enjoy it with bread, rice, salad or any other side dish you like. You can also customize the marinade and the vegetables according to your taste and preference. Some common ingredients for the marinade are yogurt, lemon juice, garlic, ginger, salt, pepper, cumin, coriander, paprika and turmeric.
You can also add some chili powder or flakes for some extra heat. For the vegetables, you can use onion, capsicum, tomato, zucchini, mushroom, eggplant or any other firm and sturdy vegetable that can hold up on the skewer.
Step 1: Marinate chicken cubes
500 grams chicken (adha kilo murghi)
1 tsp fresh garlic crushed
1 tsp black pepper
1 tbsp red chilies crushed (laal mirchain koti hui)
½ tsp salt or to taste
1 tsp sugar
1 tbsp vinegar
3 tbsp soy sauce
The first step is to cut the chicken into bite-sized pieces and wash them well. Then, in a large bowl, add the garlic, black pepper, red chilies, salt, sugar, vinegar, and soy sauce. Mix well to combine and taste the marinade. Adjust the seasoning if needed. Add the chicken pieces and toss to coat them well with the marinade. Cover the bowl with plastic wrap and marinate for about 30 to 40 minutes or refrigerate for at least 2 hours or overnight for better flavor.
Step 2: Cooking the marinated chicken
oil for frying
marinated chicken
The next step is to cook the marinated chicken. Heat oil in a pan and add the chicken cubes. Stir-fry until the color changes. Then cover the pan with a lid and cook on low flame until the chicken becomes tender. Remove the lid and cook on high flame until the liquid dries up. Keep the chicken aside.
Step 3: Cooking the vegetables
1 capsicum (small sized), cut into cubes
1 onion (small sized), cut into cubes
1 tomato (small sized), cut into cubes
In another pan, heat some oil and fry the capsicum, onion and tomato cubes for a few minutes. Do not overcook them as they should retain their crunch. Keep them aside.
Step 4: Making the shashlik gravy
1 tbsp oil
1 tsp garlic paste
¾ cup tomato paste (you can use homemade or ready-made)
2 – 3 tbsp tomato ketchup
2 – 3 tbsp chili garlic sauce
1 tbsp soy sauce
1 tbsp vinegar
black pepper to taste
red chilies crushed to taste
1 tsp sugar
salt to taste
1 cup water
1 tsp cornflour (dissolved in 2 tbsp water)
In a saucepan, heat oil and sauté the garlic paste for a minute. Then add the tomato paste, tomato ketchup, chili garlic sauce, soy sauce, vinegar, black pepper, red chilies, sugar and salt. Mix well and cook for a few minutes. Then add water and bring it to a boil. Add the cornflour slurry and cook until the gravy thickens.
Step 5: Assemble the dish
To assemble the dish, take a serving platter and spread some gravy on it. Then arrange the chicken and vegetable skewers on top of the gravy. Pour some more gravy over them and garnish with some chopped coriander leaves. Serve hot with naan bread or rice.
Serve the chicken shashlik hot with rice, salad, and your favorite sauces. combine the cooked chicken and vegetable with the hot gravy in a large bowl and toss gently. You can also squeeze some lemon juice over the chicken for a tangy touch. Turn off the flame and serve your delicious homemade chicken shashlik!
I hope you found this post useful and informative. If you have any questions or comments, please feel free to share them in the comment section below. I would love to hear your feedback and learn from your experience.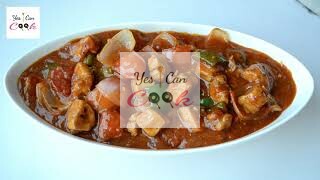 Chicken Shashlik
Ingredients
Marination of chicken cubes
500

grams

chicken

(adha kilo murghi)

1

tsp

fresh garlic crushed

1

tsp

black pepper

1

tbsp

Red Chilies Crushed (Laal Mirchain Koti Hui)

½

tsp

salt

or to taste

1

tsp

sugar

1

tbsp

vinegar

3

tbsp

soy sauce
Vegetables
1

capsicum

(small sized)

1

onion

(small sized)

1

tomato

(small sized)
shahlik gravy
1

tbsp

oil

1

tsp

garlic paste

¾

cup

tomato paste

you can homemade paste

ready made tomato paste

(optional)

2 – 3

tbsp

tomato ketchup

2 – 3

tbsp

chili garlic sauce

1

tbsp

soy sauce

1

tbsp

vinegar

black pepper

to taste

red chilies crushed

to taste

1

tsp

sugar

salt

to taste

1

cup

water

1

tsp

cornflour

(add it after mixing it with 2 tbsp water in a separate bowl)
Video
If you like my recipes then please visit and subscribe my YouTube channel for daily recipes. Don't forget to share this recipe.
Feel free to leave your comments and suggestions at the end of this post.