Why to shop around when you can easily make Spring and Samosa Roll Sheets easily at home. Samosa and Rolls are highly demanded snacks at Iftar time.
You can experiment with different recipes by changing the filling ingredients of samosa and rolls. In the end you always need off the shelf read made sheets or patties. However, with less ingredients and little effort you can easily make the sheets at home.
Here is how you can do it following the easy steps in the video.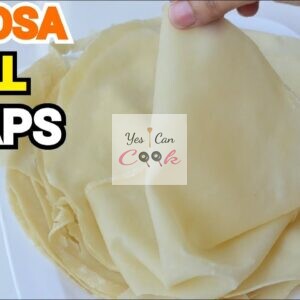 Spring Roll and Samosa Sheets
Ingredients
2

cups

refined flour

(maida)

½

tsp

salt

2

tbsp

oil

water

as required
Instructions
Mix the ingredients of the dough in a mixing bowl and knead soft dough into a ball.

Rest the dough for 30 minutes.

Work the dough with your hand and fold it into roll and cut it into 12 small balls.

On flat surface roll down the balls into small round bread sheets. Apply oil on a base sheet and sprinkle some flour. Add up second sheet and repeat the process unit you heap up 5 sheets together.

Roll down the heap into large thin bread sheet.

Meanwhile, heat up the griddle (tawa) and bake each side of the heaped up sheets for 10 seconds each side.

Carefully start lifting apart the sheets. You should get thin sheets ready to be used.

Shape the sheets for samosa or roll as per your recipe.
If you like my recipes then please visit and subscribe my YouTube channel for daily recipes. The written contents of my recipe videos released on my channel are also being frequently published on my website. Therefore, you can visit my site any time to look for written content of your favorite recipes.
Feel free to leave your comments and suggestions at the end of this post.