Reshmi kabab is a delicious and creamy chicken dish that originated from the Mughlai cuisine. It is made with boneless chicken pieces that are marinated in a rich mixture of yogurt, cream, cheese, nuts and spices. The chicken is then grilled on skewers until tender and juicy. Reshmi kabab is also known as chicken malai tikka or murgh malai kebab.
The kabab is a perfect appetizer for any occasion. It can be served with mint chutney, green chutney, onion rings and lemon wedges. It can also be enjoyed as a main course with naan bread, paratha or rice. This dish is easy to make at home with simple ingredients with or without a grill.
Tips to make the best Reshmi Kabab
Here are some tips to make the best reshmi kabab:
Use boneless chicken breast or thigh for the best texture and flavor.
Cut the chicken into equal-sized pieces for even cooking.
Use hung yogurt or Greek yogurt for the marinade. It should be thick and not watery.
Add cheese spread, cream cheese or grated cheese to the marinade for extra creaminess and richness.
Use almond meal, cashew nuts or cornstarch to bind the marinade and make it stick to the chicken.
Marinate the chicken for at least 4 hours or overnight for maximum flavor absorption.
Soak wooden skewers in water for an hour before threading the chicken to prevent them from burning.
Preheat the oven or grill to a high temperature and cook the chicken for about 15 to 20 minutes, turning once or twice.
Baste the chicken with butter or oil while grilling to keep it moist and prevent drying out.
Sprinkle some kasuri methi (dried fenugreek leaves) or garam masala on top of the cooked chicken for extra aroma and taste.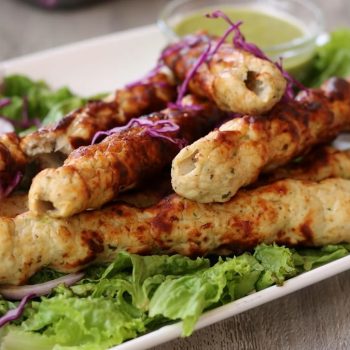 Reshmi Kabab Recipe
Reshmi Kabab is a popular dish from the Mughlai cuisine, which originated in the Indian subcontinent. It consists of tender pieces of chicken or lamb marinated in a creamy mixture of yogurt, cream, cheese, spices and herbs. The marinated meat is then skewered and grilled over charcoal or in an oven, resulting in a succulent and flavorful kabab. Reshmi Kabab is usually served with onion rings, lemon wedges, mint chutney and naan bread.
Ingredients
ONION 400 GRAM

SOME FRESH CORIANDER AND MINT LEAVES

6-8

GREEN CHILIES

1

kg

CHICKEN BONELESS

1

tsp

GARLIC POWDER OR

PASTE 1 TBSP

½

tsp

GINGER POWDER OR

PASTE 1 TSP

1

tsp

BLACK PEPPER POWDER

or to taste

1

tbps

WHITE PEPPER POWDER

or to taste

SALT TO TASTE

1

tbsp

OIL

100

ml

CREAM

¼

cup

MOZZARELLA CHEESE

OPTIONAL

OIL FOR FRYING
Video