Golden Bites recipe is very easy and tasty side dish. This recipe that can be ready in approximately 30 minutes and good to serve around 2-4 People.
Preparation
Filling for this snack recipe consists of shredded chicken, boiled egg and mashed potato.
Shredded Chicken
The shredded chicken is one of the main ingredient of Golden Bites recipe. You can store it in a refrigerator for about three days. If not to be used in that time, freeze the shredded chicken and then defrost it later any time you wish to try this recipe. So, if you have not already shredded the chicken right away or stored it in refrigerator before hand, I would recommend to make it now before proceeding any further with this recipe.
Boiled Egg
Another step you need to prepare for the Golden Bites recipe is to make a hard boiled egg. To do so cover the egg in a pan with water. Bring the water to a full rolling boil. Approximately in 10 to 15 minutes the egg should boil hard enough fully setting its yolk. Peel away the shell, mince it and set it aside.
Boiling and mashing the potato
Potato is a filling ingredient in many other snack recipes. When combined with shredded chicken and egg, potato provides good stuffing and taste. So boil the potato along side the other filling ingredients and keep aside.
Stuffing and Cooking of Golden Bites
Now when you have prepared main ingredients, you can add the filling ingredients together and cook the Golden Bites. Follow all the steps below to get a perfect dish.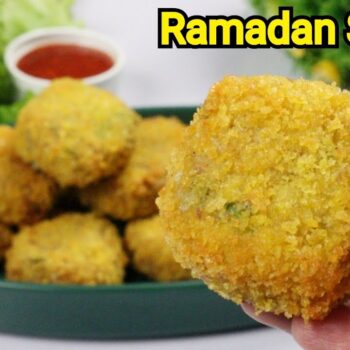 Golden Bites Snack Recipe
Ingredients
1

cup

chicken

boiled and shredded

1

egg

hard boiled

1

potato

(large sized) boiled

½

capsicum

1

tbsp

black lives

1

tbsp

pickled jalapeno

or to taste

1

tso

peri peri sauce

¼

tsp

mustard paste

½

tsp

black pepper

or to taste

½

tsp

mixed herbs

or dried parsley

¼

tsp

garlic powder

salt

to taste

1 – 2

tbsp

spring onion

(green part)
egg

breadcrumbs

oil

for frying
Instructions
In a mixing bowl add shredded pieces of chicken, minced egg and mashed potato.

Add sliced capsicum, olives, pickled jalapeno, peri peri sauce and mustard paste.

Now, add all the seasonings and mix every thing well.

½ tsp black pepper,

½ tsp mixed herbs,

¼ tsp garlic powder,

salt

Also add spring onion (green part) and mix again.

Grease your hands with oil and start making raw snacks of squared or round shape.

Beat another egg in bowl. Dip the raw snack and coat it with breadcrumbs.

Repeat the above step for all the snacks. Keep aside for cooking or store it for later use in the freezer for 3 to 4 days.

Heat enough oil and fry the snacks and medium flame.
Video