Fruit Trifle Recipe is part of dessert recipe series. Here are the ingredients you need to try this recipe.
If you have already arranged the ingredients, then start making delicious fruit trifle just by watching my video at the end.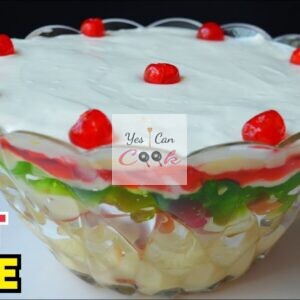 Fruit Trifle
Ingredients
Custard
1

liter

milk

½

cup

sugar

4

tbsp

custard powder

mix it with ¼ cup milk separately

plain cake

slices as required

fruit cocktail juice

as required
Fruit
apple

banana

1

tin

fruit cocktail

or you can use any other seasonal fresh food
Other ingredients
red and green jelly

whipped cream

(optional)
Video
If you like my recipes then please visit and subscribe my YouTube channel for daily recipes. Don't forget to share this recipe.
Feel free to leave your comments and suggestions at the end of this post.