'Aloo ke samose aor aloo ki chatney' is a famous street food item across India and Pakistan. People of every age love it for its crispy and spicy taste. Love for samosa is a daily business. However, craving for samosa in Ramzan 2020 like many other food items grows exponentially as you could see people standing in lines to add it in their Iftar menu.
So why to stand in lines when you could make you favorite aloo ke samose at home easily.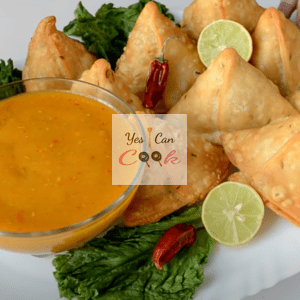 Aloo Samosa Recipe
Ingredients
Ingredients for Aloo ki Chatney
1

piece

Potato

boiled

2

tbsp

Tamarind Pulp

Imli ka ras

½

tsp

Red chili powder

¼

tsp

Red Chilies Crushed (Laal Mirchain Koti Hui)

¼

tsp

Cumin powder

1

pinch

Turmeric (Haldi)

½

tsp

Chaat masala

½

tsp

Coriander powder

Dhania powder

1

pinch

Citric acid

Tatri

1

pinch

Orange Food Color (Zarda Rang)

salt

to taste

1

tsp

Sugar

½

tsp

Corn flour

½

cup

water
Samosa Stuffing
2 – 3

tbsp

Oil

1

piece

Onion

small sized

½

tsp

Garlic

1

tsp

Red Chilies Crushed (Laal Mirchain Koti Hui)

½

tsp

Crushed Cumin seeds (Zeera kota hua)

1

tsp

Coriander (Dhaniya)

1

pinch

Turmeric (Haldi)

½

tsp

Chaat masala

Salt

to taste

1

Green Chili

finely chopped

4 – 5

leave

Dried mint leaves

2

pieces

Potato

large in size and already boiled.

½

piece

Lemon
Smosa Dough
2

cups

Refined flour

1

tsp

Salt

½

tsp

Cumin seeds

2

tbsp

Clarified butter (Ghee)

Water

as needed
Instructions
Aloo ki chatni
Add all the ingredients of aloo ki chatin in blender jar and blend them together. Add some water so that blended aloo would easily come out of the container.

Empty the container into a frying pan and cook the liquid mixture on medium flame for 2 – 3 minutes. Aloo ki chatni is ready.
Samosa Stuffing
Start by frying a small sized nicely chopped onion in a pan.

During the process add garlic and keep frying for 2 more minutes.

Then add red chilies, cumin seeds, turmeric, coriander, chaat masala, salt to your taste, finely chopped green chili and dried mint leaves one after another. Stir them and add already boiled potatoes. Stir again so that potato is nicely mixed with other seasonings and paste is formed. Add some more coriander leaves and squeeze half of the lemon over it. Stir to mix. Turn off the flame.
Samosa Dough
In a mixing bowl add 2 cups of refined flour (maida) season, salt, cumin seeds and ghee. Using your hand mix them together and add water as needed.

Kneed tight dough and rest it for 30 minutes.

On a flat surface make a round roll and cut it into small equal pieces. Roll out each piece into egg shaped parallel patties. Cut them into two pieces so that you can easily make two samosas out of it..

Using your fingers, fold the patti from the liner side in such a way that a triangular pocket is formed overlapping one side on the other. User water to glue the sides. The circular side is used to cover up the samosa after potato stuffing is filled in.

Heat oil and deep fry the samosas on low flame until golden. Aloo ka samosa is ready to be served with aloo ki chatni.
Video
If you like my recipes then please visit and subscribe my YouTube channel for daily recipes. The written contents of my recipe videos released on my channel are also being frequently published on my website. Therefore, you can visit my site any time to look for written content of your favorite recipes.
Feel free to leave your comments and suggestions at the end of this post.