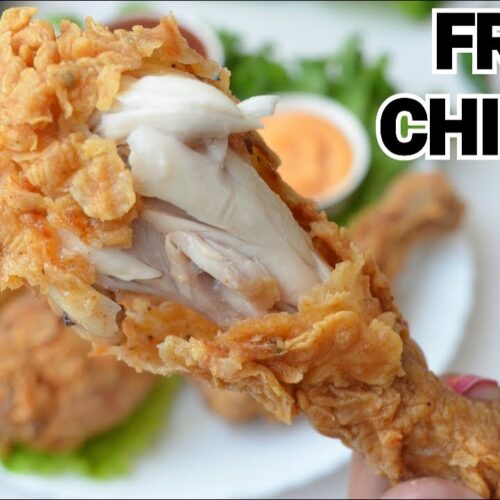 Crispy Spicy Fried Drumsticks
Ingredients
8

qt

Chicken leg pieces

Salt to taste

2

tbsp

Vinegar

1

tbsp

Hot sauce or chili sauce

1

tsp

Black pepper

1

tsp

Red chili powder

1/2

tsp

Garlic powder
Dredging station | Spicy flour mixture
2

cup

Refined flour

1/2

tsp

Baking powder

1/4

cup

Cornflour

1/2

tsp

Salt

1/2

tsp

White pepper powder

1/2

tsp

Mustard powder

1/2

tsp

Red chili powder

Oil for deep frying
Instructions
Marinate the chicken leg pieces by adding salt to taste, vinegar, and hot or chili sauce. Season the pieces with black pepper, red chili powder, and garlic powder. Coat the chicken pieces well with the spice mixture using your hand.

Roll up the chicken in the plastic wrap tightly and keep it in the refrigerator overnight.

When the chicken is ready for cooking, prepare a spicy coating mixture. Start by sieving refined flour along with baking powder into a large mixing bowl. Add refined flour and whisk to mix well. Season it with salt, white pepper powder, mustard powder, and red chili powder. Whisk to mix well.

Working with 1 piece of chicken at a time, place it in the flour mixture. Use your hand to clench the piece and press the flour coating onto it. Then dip it in the chilled water for few seconds. Place it again in the flour mixture to press more flour onto it.

Place the coated chicken on the rack and repeat dredging the remaining chicken. Set aside at room temperature for at least 10 minutes and up to 30 minutes while you set up for frying and heat the oil.

Place 2 or 3 pieces of the chicken pieces in the oil and deep fry on a medium flame for 10 to 12 minutes.

Transfer the chicken to the rack and allow extra oil to shed. Let cool at least 10 minutes before serving.
Video
If you like my recipes then please visit and subscribe to my YouTube channel for daily recipes. Also, do not forget to share this recipe.
We welcome your feedback to serve better content. So feel free to leave your valuable suggestions and comments at the end of this post.