Chicken Cheese Wrap is another recipe that you can make with homemade tortillas. If you have already tried my Chicken Cheese Quesadilla recipe, you may find the filling ingredients for this recipe are the same. Yes, the only difference is the amount of filling and the way the tortillas are wrapped.
Chicken cheese wraps come with more chicken and other veg ingredients than the quesadilla.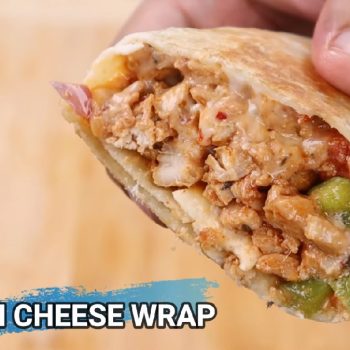 Chicken Cheese Wrap
Ingredients
350

grams

boneless chicken

1

tsp

garlic paste

or powder

2

tbsp

soy sauce

1

tbsp

vinegar

1

tbsp

chili sauce

or hot sauce

salt

to taste

1

tsp

red chili

crushed

1

tsp

paprika powder

½

tsp

black pepper

½

tsp

tarragon herbs

(optional)

¼

tsp

thyme

or oregano leaves

2 to 3

tbsp

oil

1

tbsp

chili garlic sauce

2 to 3

tbsp

tomato ketcuhp

¼

cup

campsicum

¼

cup

tomato

¼

cup

onion

tortilla

mozzarella and cheddar cheese

to taste
Instructions
In a mixing bowl, add chicken, garlic, soya sauce, vinegar, chili or hot sauce, salt to taste, red chili crushed, paprika powder, black pepper crushed, Tarragon herbs, Thyme and marinate the chicken for 30 minutes.

In a skillet cook the marinate chicken on high flam for 2 minutes. Cover the skillet with lid and cook on low flame, until the chicken is cooked through. Add chili garlic sauce and tomato ketchup. Mix well and add chopped capsicum, seedless pieces of tomato and onion. Whisk and cook for a minute.

Arrange tortilla on flat surface and add layer of mozzarella and cheddar cheese as required. Add cooked chicken and another layer of mozzarella and cheddar cheese.

Fold the bottom edge of each tortilla over the filling, then fold in the sides and roll up tightly.

In a large skillet over medium heat, melt the butter and cook the tortillas for about a minute on each side, until lightly browned.

Cut in half and serve with extra dressing if desired.
Video