Vegetable Cutlets or you may call them vegetable kababs are super easy to make and amazingly full of taste. More importantly you do not have to spend much money to make them. You can make them at short notice with readily available kitchen ingredients at home.
Here is a step by step explanation of steps involved to try this recipe.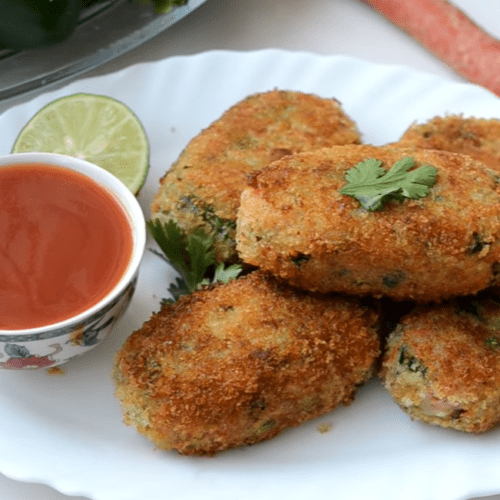 Vegetable Cutlets Recipe
The crispy vegetable cutlets are tasty snacks that you can make with mixed vegetables like potatoes, peas, carrots, cabbage, onion, and capsicum. Serve the snacks with tea or as an appetizer with your favorite chutney or any dip.
Ingredients
2

large-sized Potatoes

1

Carrot

1/4

cup

Spring Onion (green part)

2

tbsp

Peas

1/2

Capsicum

1

Small-sized Onion

1/2

Tomato

2

tbsp

Fresh Coriander Leaves

1

tbsp

Mint Leaves

2

Green Chilies

Salt to taste

1

tsp

Crushed Red Chili

1/2

tsp

Cumin Seeds

1

tsp

Crushed Coriander Seeds

1/2

tsp

Chaat Masala

1

pinch

Turmeric

1/2

tsp

Black Peeper

1

tsp

Lemon Juice

1

Egg

Breadcrumbs

4

tbsp

Oil
Instructions
Firstly, boil two large-sized potatoes. Peel them off and mash in a large mixing bowl. Also, boil peas before using them in your recipe.

Add grated carrot, chopped green part of spring onion, boiled peas, capsicum, and onion. Remove seeds from the tomato and dice it into squares and add them on. Add finely chopped fresh coriander, mint leaves, and 1 or 2 green chilies. Season with salt, crushed red chili, coriander seeds, chaat masala, a pinch of turmeric, and black pepper. You can adjust the quantity of salt, red chili, and black pepper to your taste.

Squeeze lemon juice in the mixing bowl and mix everything well.

The mixture should be non-sticky and not soggy. Take a small portion of the mixture and make cutlet patties using the palm of your hand. Flatten them gently and make thick cutlet patties. Set them aside on a plate.

Beat one to two eggs as required and beat so that the cutlet patties are dipped completely. Dip the patties in beaten eggs.

Breadcrumbs make the cutlets crispy and enhance the taste. Gently coat the cutlets all over with the breadcrumbs. Place them on a plate and leave aside for about 5 to 10 minutes so that the bread crumbs stick well.

Heat oil in the frying pan. Gently dredge the cutlets before frying in the plate to remove excess crumbs. Shallow fry the cutlets on medium flame and flip sides until golden.

Take out the fried cutlets on absorbent paper and serve with your favorite chutney or dip.
Video
If you like my recipes then please visit and subscribe to my YouTube channel for daily recipes. Also, do not forget to share this recipe.
We welcome your feedback to serve better content. So feel free to leave your valuable suggestions and comments at the end of this post.