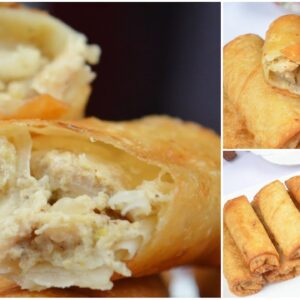 Smoked Malai Boti Crispy Rolls Recipe
Ingredients
500

g

boneless chicken

1

tsp

crushed garlic

2

crushed green chilies

1

tsp

lemon juice

2 – 3 yogurt

1/4

cup fresh cream (dairy cream)

2

tbsp

milk powder

1/2

tsp

black pepper

1/2

tsp

white pepper powder

1

tsp

crushed cumin seeds

salt to taste

1/2

tsp

meat tenderizer powder (optional)

1 – 2 tbsp cooking oil
other ingredients
1

small sized onion

roll sheets as required

cooking oil for deep frying
Instructions
Take a mixing bowl and add chicken and other ingredients. Marinate the chicken for 20 – 30 minutes.

Cook the marinated chicken on low flame until chicken is done. It may take 10 to 15 minutes.

Place a charcoal in center of the cooking pan and pour few drops of cooking oil on it. Cover the pan with lid and give coal smoke for 2 – 3 minutes.

When done let it cool down and add onion slices.

Prepare a smooth flour paste by mixing 1 tbsp of flour and 2 tbsp of water. Arrange the Mali Boti filling on the roll sheets and fold into rolls. Apply the flour paste on edges to tie up the rolls.

Heat oil for deep frying. Fry and stir continuously till golden and crispy. Take out on the absorbent paper and serve.
If you like my recipes then please visit and subscribe my YouTube channel for daily recipes. Don't forget to share this recipe. Feel free to leave your comments and suggestions at the end of this post.