Masala Fish is a perfect appetizer with a spicy, crunchy coating and soft and flaky inside. Coated with delicious batter, you can cook the fish in an ordinary pan using the shallow frying method. It doesn't require any special equipment.
Just fill the pan with oil to about half the depth of the item you're frying, cook the first side through, then flip it over to achieve a perfect golden-brown exterior on both sides.
You feedback is important to me and can help me serve better content for you, please do not hesitate to submit your comments. You can also connect with me through Instagram, Facebook, and YouTube.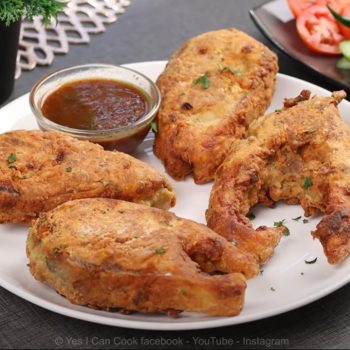 Masala Fish Fry
Ingredients
To marinate the fish
½

kg

fish

2

tbsp

lemon juice

salt

to taste
Coating Batter
1

tsp

ginger and garlic paste

½

onion

small sized (finely chopped)

1

tbsp

fresh coriander

1

tsp

red chili

crushed

½

tsp

red chili powder

1

tsp

coriander seeds

crushed

½

cup

all-purpose flour

1

tbsp

rice flour

1

egg

a

pinch of

salt

oil

for frying
Instructions
Chop the fish into small pieces, clean, dry thoroughly, and arrange them in a mixing bowl. Apply lemon juice and some salt by flipping over the sides. Let it marinate for 20 minutes.

Add the rest of the ingredients into a separate bowl and mix until well combined to make the batter for coating the fish.

Apply batter to the fish pieces thoroughly and coat them with all-purpose flour to ensure that the fish will be crispy.

Heat a pan with oil for shallow frying until medium-hot ensuring that the oil is not too hot – to test this you can add a drop of the masala into the pan, and it should rise with tiny bubbles surrounding it

Add the fish into the pan – there should be tiny bubbles surrounding them – and allow them to cook undisturbed for 8 minutes until golden brown before flipping and allowing them to cook for another 8 minutes until golden brown on the other side.

Serve as a starter with your favorite sauce or as a main with salad and plain naan bread!
Video
Please rank this recipe or submit your comments using the form at the end of this post.