Are you looking for a delicious and easy way to make chicken paratha at home? If so, you have come to the right place. In this blog post, I will show you how to make chicken paratha with simple ingredients and step-by-step instructions. Chicken paratha is a popular dish in South Asian cuisine, especially in Pakistan and India. It consists of a flatbread stuffed with spicy chicken filling and cooked on a griddle. It is perfect for breakfast, lunch or dinner, and can be served with yogurt, chutney or pickle.
Chicken paratha is a delicious and filling dish that can be enjoyed at any time of the day. Whether you have it for breakfast, lunch or dinner, you will not regret making this easy and tasty recipe.
It can be a filling breakfast that can be enjoyed with a cup of tea or a refreshing lunch that can be enjoyed with a glass of lassi or even served as a snack or as a side dish for dinner.
Here are the easy steps to make this simple yet delicious recipe at home: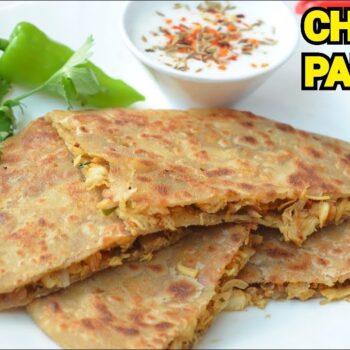 Chicken Paratha Recipe
If you love chicken and paratha, you will love this recipe! Chicken paratha is a delicious and easy way to make a filling and satisfying meal. You can use leftover chicken or cook some fresh, and mix it with spices and herbs. Then, you can stuff it inside a soft and flaky paratha, and cook it on a hot griddle until golden and crisp. Serve it with some yogurt, pickle, or chutney, and enjoy the burst of flavors in every bite!
Ingredients
250

grams

boneless chicken

1

tsp

ginger and garlic

crushed into paste form

1

tsp

crushed red chili

or to taste

¼

tsp

paprika powder

(optional)

½

tsp

crushed cumin seeds

(zeera)

½

tsp

coriander powder

(dhania powder)

1-2

pinches of

turmeric

(haldi powder)

salt

to taste

¼

tsp

crushed black pepper

or to taste

1

tsp

vinegar

⅓

cup

yogurt

(dahi)

1-2

tbsp

oil

to cook the marinated chicken

1

small sized

onion

1

green chili

2

tbsp

fresh coriander

(taza dhania)
Dough
1

cup

refined flour

1

cup

wheat flour

(gandum ka ataa)

½

tsp

salt

water

as required
Instructions
In a small bowl, add the ginger and garlic paste, crushed red chili, paprika powder, cumin seeds, coriander powder, turmeric, salt, black pepper, vinegar and yogurt. Mix well to make a marinade.

Add the chicken pieces to the marinade and coat them well. Let the chicken marinate for at least 30 minutes or refrigerate overnight for better results.

Heat oil in a skillet over medium-high heat. Add the marinated chicken and cook on high flame for a minute. Cook on low flame for about 15 minutes with the lid on until the chicken is tender and dry.

Add the onion, green chili and fresh coriander and cook for another few minutes, stirring occasionally, until the onion is soft and golden.

Transfer the chicken filling to a plate and let it cool slightly.
Dough Preparation
In a large bowl, mix the refined flour, wheat flour and salt together.

Gradually add water and knead the mixture into a smooth and soft dough.

Cover the dough with a damp cloth and let it rest for about 20 minutes.
Assembling
Divide the dough into equal-sized balls. Roll out each ball into a thin circle on a floured surface.

Place some chicken filling in the center of one circle. Fold the edges over the filling and seal them well. Press lightly to flatten the stuffed circle.

Heat a griddle (tawa) over medium-high heat. Grease it lightly with oil or ghee.

Place the paratha on the griddle and cook for about 2 minutes on each side, until golden brown spots appear. Apply some oil or ghee on both sides while cooking.

Repeat with the remaining dough and filling.

Serve hot with yogurt, chutney or pickle.
Video
If you like my recipes then please visit and subscribe my YouTube channel for daily recipes. Don't forget to share this recipe.
We welcome your feedback to serve a better content. So feel free to leave your valuable suggestions and comments at the end of this post.