Welcome to my cooking blog, where I share with you my passion for delicious and easy recipes. Today, I'm going to show you how to make a homemade cheesy chicken vegetable pizza that will satisfy your cravings and impress your guests. This pizza is loaded with tender chicken, fresh veggies, gooey cheese and a homemade tomato sauce that is bursting with flavor. It's simple to make and you can customize it with your favorite toppings. Let's get started!
Step 1: Marinate the chicken
The first step is to marinate the chicken pieces with some spices and yogurt. This will make the chicken juicy and flavorful. You will need:
chicken boneless 250 gram
garlic paste 1 tsp
salt to taste
black pepper crushed 1/4 tsp
red chili crushed 1/4 tsp
cumin seeds crushed 1/4 tsp
chaat masala 1/4 tsp
tikka masala 1/2 tsp
orange food color 1 pinch
yogurt 3-4 tbsp
oil 2 tbsp
Mix all the ingredients in a bowl and coat the chicken pieces well. Marinate it for 30 minutes, or you can also refrigerate it for at least an hour or overnight for best results.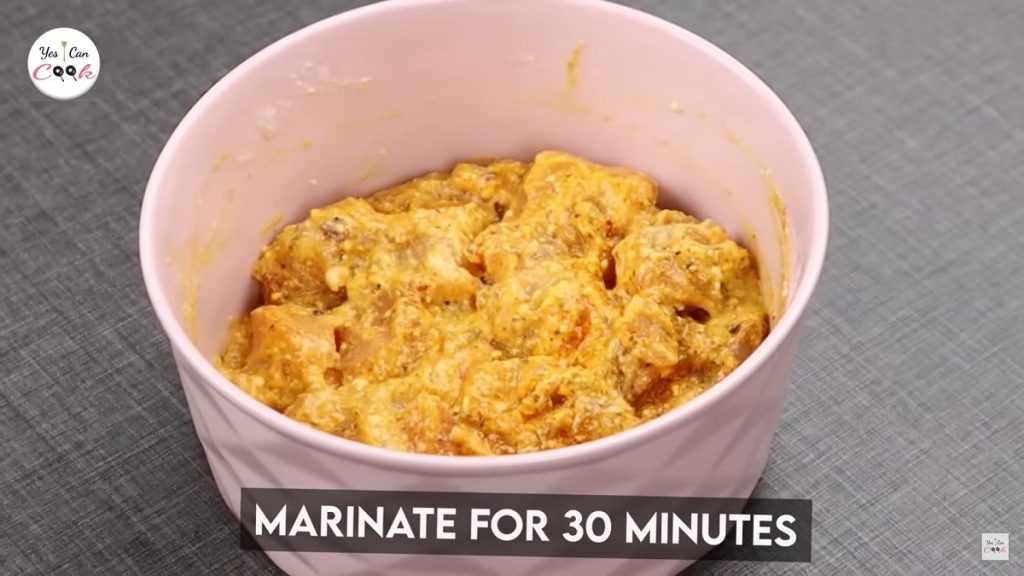 Step 2: Make the pizza dough
The next step is to make the pizza dough. You can use ready-made pizza dough or make your own from scratch. Here's what you need:
all-purpose flour 1/2 kg
salt 1 tsp
sugar 2 tsp
yeast 2 tsp
egg 1
oil 2 tbsp
milk 1/4 cup
warm water as required
In a large bowl, mix the flour, salt, sugar and yeast. Make a well in the center and add the egg, oil and milk. Gradually add warm water and knead until you have a soft and smooth dough. Place the dough in a greased bowl and cover with a damp cloth. Let it rise in a warm place for about an hour or until doubled in size. If you are looking for more detail, please find step by step instructions on how to make Pizza Dough.
Step 3: Assemble and bake the pizza
The final step is to assemble and bake the pizza. You will need:
pizza dough
pizza sauce
mozzarella and cheddar cheese
onion
tomato
capsicum
cooked chicken
mozzarella cheese
jalapeno
black olives
dried oregano leaves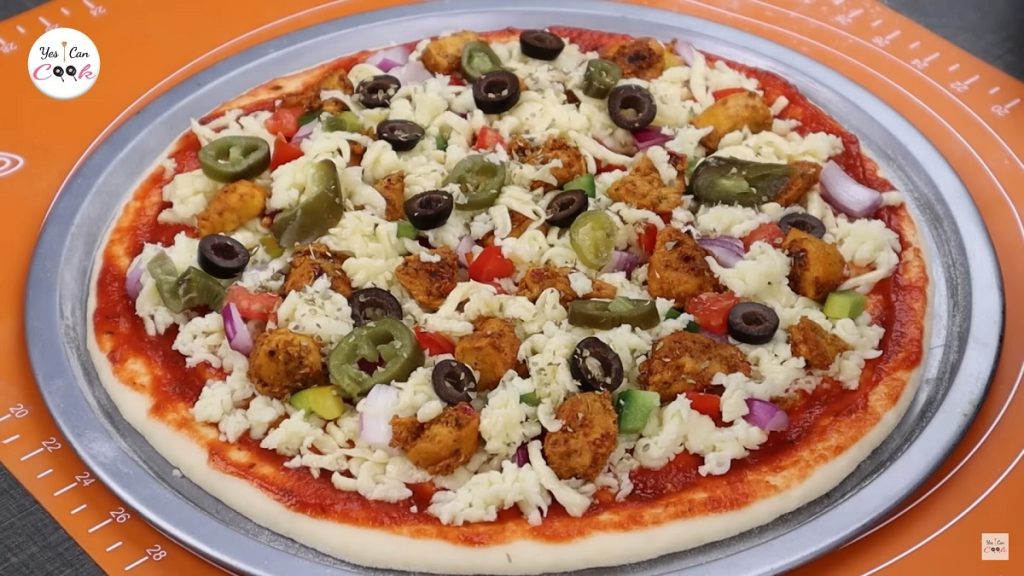 Preheat your oven to 200 degrees C and grease a baking tray. Roll out the pizza dough into a thin circle and place it on the tray. Spread some pizza sauce over the dough and sprinkle some mozzarella and cheddar cheese on top. Cut the onion, tomato and capsicum into thin slices and arrange them over the cheese. Add the cooked chicken pieces and some more cheese on top. Sprinkle some jalapeno, black olives and oregano leaves for extra flavor. Bake the pizza for 15 to 20 minutes or until golden and bubbly.
Enjoy your chicken cheese vegetable pizza hot and fresh from the oven. I hope you liked this recipe and will try it soon. Let me know how it turned out in the comments below. Thanks for reading!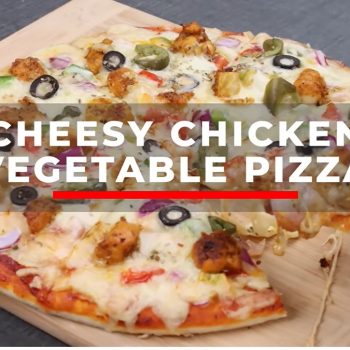 Cheesy Chicken Veg Pizza
Ingredients
STEP 1 CHICKEN
250

grams

chicken boneless

1

tsp

garlic paste

salt to taste

¼

tsp

black pepper crushed

¼

tsp

red chili crushed

¼

tsp

cumin seeds crushed

¼

tsp

chaat masala

½

tsp

tikka masala 1/2 tsp

1

pinch

orange food color

3 to 4

tbsp

yogurt

2

tbsp

oil
STEP 2 PIZZA DOUGH
½

kg

all purpose flour

1

tsp

salt

2

tsp

sugar

2

tsp

yeast

1

egg

2

tbsp

oil

¼

cup

milk

warm water as required
STEP 3 ASSEMBLING
pizza dough

pizza sauce

mozzarella and cheddar cheese

onion

tomato

capsicum

cooked chicken

mozzarella cheese

jalapeno

black olives

dried oregano leaves
Video