Apple and Beetroot juice is a miracle drink. It has numerous benefits for your health and can boost your immunity system. It should be regularly consumed for its amazing benefits like help in weight loss, purifies the blood, and is great for the skin.
Having this drink regularly may help you get flawless, glowing skin. It may also help to remove acne, pimples, blemishes, and black spots from your skin. Adding carrot in the ingredients may supplement vitamin A which has anti-aging properties to prevent your skin from premature aging.
More importantly, this juice is packed with the goodness of nutrients which are great for your overall health. With the COVID-19 pandemic still here, apple and beetroot drunk together can do wonders to maintain overall health to keep our immunity system fighting fit.
The best time to consume this drink is on an empty stomach in the morning. Here is how you can make this wonderful drink for you.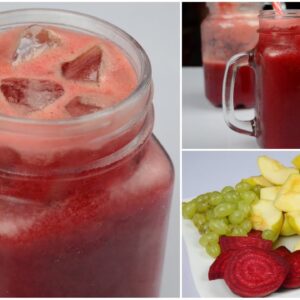 Apple Beetroot Juice Recipe
Ingredients
1

kg

apple

a bunch of grapes (optional)

1

beetroot

lemon juice to taste

black salt to taste

ice cubes as required
Instructions
Wash beetroot and apple peel and cut them into small pieces.

Add them to a blender and strain the juice into a bowl. Use a spoon or a straw to mix well.

Add lemon and season black salt as per taste or drink as it is. Enjoy the healthy drink!
If you like my recipes, then please visit and subscribe to my YouTube channel for daily recipes. Also, do not forget to share this recipe.
We welcome your feedback to serve better content. So feel free to leave your valuable suggestions and comments at the end of this post.